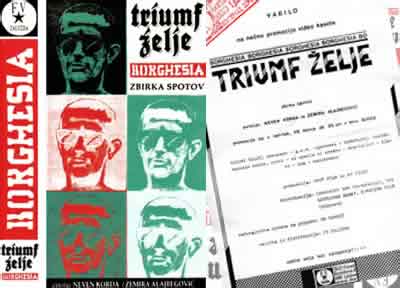 THE TRIUMPH OF DESIRE
videocassette, U-matic, 60 min.
FV video and BRUT film, VS Video /SKD Forum, E-motion film /SKUC, TV Slovenija, PIAS
Ljubljana, 1990
edit in: Studio MAX, TVS [She] and Studi MI [introductory]
art director: Neven Korda
produced by: BRUT film
producer: Zemira Alajbegovic
published by: FV Zalozba /SKUC-Forum
The videocompilation was subsidised by the LKS and KSS
Ljubljana, february 1990

A compilation of music spots by the band Borghesia, which was published as the sixth video cassette by FV Label.
The Mud, The Futurists, Discipline, Document, G.U.M., No Hope No Fear, Poppers, She, Venceremos.